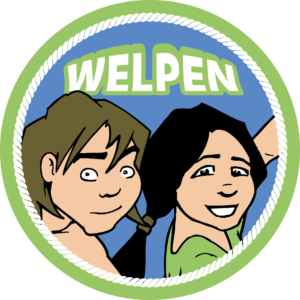 SEARCHING FOR PIRATE TREASURE, ARTS AND CRAFTS OR PLAYING OUTSIDE. THAT IS WHAT A REAL ESTA DOES!
The Estas are a group of boys and girls of the ages of 7 to 11 years of age. They meet every Saturday morning from 10.00 till 12.30 and are recognisable by their green blouse. 
The Estas play together in the Land of Esta where they experience all sorts of crazy, cool and exciting adventures. The Child with the high hat that is a native of this land makes the kids acquainted with the cities and inhabitants that are there. 
From a day as a pirate to living a day like a clown, everything is possible in the Land of Esta!
Twice a year the Estas will have a weekend full of adventure. They will sleep one night in our own cabin and another trip they will sleep one night in a cabin nearby.  At the end of the scouting season the Estas will go on summer camp. They will stay in a cabin closeby for 5 nights to have some more amazing adventures.
The contribution for the Esta's for the 2021-2022 season is: €187.50, this is an All-in price! So no hidden costs or extra contributions for weekends or camps. If you pay the contribution in 1x, you will receive a discount of € 5.00!
Does it seem fun to you to join the Estas on their adventures?
Come and join us for free thrice in the morning!