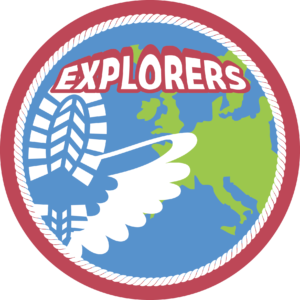 AWESOME GIRLS-AFTERNOONS, MAKING YOUR OWN SUSHI, OR DOING A MUSIC QUIZ. EVERYTHING IS POSSIBLE AT THE SHERPA'S!
Our Sherpa's are girls between the ages of 15 and 18 years old. They meet every Saturday afternoon between 13:30h (1:30 p.m.) and 17:00h (5 p.m.) and they can be recognised by their bordeaux-red blouse.   
As a Sherpa, you create your own programmes for the Saturday afternoon, either together with someone else or alone. Guided by the staff, you will learn to come up with a programme, create it, and execute it. Together with a lot of creativity, every scouting-season has its own great programme-planning. 
Apart from creating the programmes, these girls also arrange that they will go on a few camps every season. They will either stay at our own clubhouse, or they will find another location (clubhouse or tent). The Sherpa's go on a summer camp as well at the end of the scouting season. Due to several financial actions during the season, they can earn a bit of extra money to be able to go on a camp a bit further away.
The membership fee for the Sherpa's for the 2021-2022 season is: €273.00,
this is an All-in price! So no hidden costs or extra contributions for weekends or camps. If you pay the contribution in 1x, you will receive a discount of € 5.00!
Does it seem fun to you? Don't hesitate to join us in the afternoon for free thrice and experience whether the Sherpa's are your new group of friends!