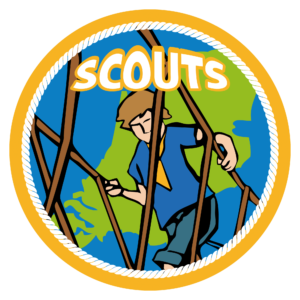 PRIMITIVE COOKING, GOING ON A HIKE WITH THE GIRLS, OR A GAME IN THE CITY CENTRE. THAT, AMONGST OTHER THINGS, IS WHAT YOU CAN DO WHEN YOU'RE A GIDS!
The Gidsen are girls between the ages of 11 and 15, they meet every Saturday afternoon between 13:30h (1:30 p.m.) and 17:00h (5:00 p.m.) and they can be recognised by their brown blouse.
The Gidsen-staff makes a programme for every Saturday afternoon, in which 'gezelligheid', fun, and adventure are paramount, both on the creative and the sportive field. The real scouting activities are, naturally, not forgotten! Primitive cooking, rafting trips, knotting, campfire, dropping, and more! We can go on like this for a very long time!
De Gidsen go on a weekend-camp 5 times per scouting-season. The one time, the girls will sleep at our own clubhouse, the other time, in a tent in the woods. At the end of the season, the Gidsen will go on a summer camp and they will have their own encampment somewhere in the Netherlands or just across the border for the whole week. This is, therefore, one of the highlights of the scouting-season.
The contribution for the Guides for the 2020-2021 season is: €261.00,
this is an All-in price! So no hidden costs or extra contributions for weekends or camps. If you pay the contribution in 1x, you will receive a discount of € 5.00!
Does it seem fun to you to join these girls on their adventures?
Come and join us for free thrice in the afternoon!